Paver Cleaning in Kennesaw, GA
People's initial impression of your house is going to be formed by the paved driveway. It's important to keep it clean since it may have a significant impact on the initial impression visitors get of your home and the value it has.
That is why clean your paver today by trusting Spring Clean Power Washing. A clean, safe, and well-maintained paver surface is the result of our expert paver cleaning procedures. Clean even the most degraded paver surfaces with our mobile crews equipped with industrial-grade equipment. So call today at 770-670-6067 and get our paver cleaning service ASAP if you are living in Sandy Springs, Johns Creek, and other cities within the Greater Atlanta area.
Why Should You Consider Paver Cleaning?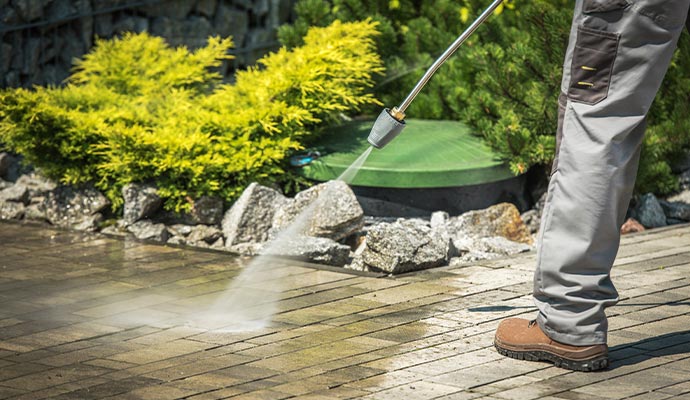 When you are getting your paver cleaning services, you will get the following benefits-
Save Money: Pavers can come in a variety of appealing colors. Those colors, however, will become less vibrant over time if they are not cleaned properly. In such a situation, you can be so dissatisfied with their state that you decide to replace them completely. This usually comes at a significant expense and the possibility that this is unnecessary should not be overlooked. If you clean your paver regularly, it will retain its shine and color for a longer period, which surely will result in significant cost savings.
Looks More Appealing: At home, you ought to experience the highest level of comfort possible. This is not always achievable, especially if the environment you are in is dirty. Simply put, the circumstances in which you find yourself have a direct bearing on your mood. So when you are walking on your dirty paver, it may be difficult to feel comfortable, especially if the paver surfaces you are seeing are unsightly and discolored. You should also consider the fact that if you ever want to put your house up for sale, having a clean paver will increase its curb appeal as well as a much higher value to prospective purchasers. This involves setting up a regular schedule with a professional like Spring Clean Power Washing for the cleaning of the pavers.
Choose Spring Clean Power Washing for Advanced Paver Cleaning Service
When you are taking service from Spring Clean Power Washing, you are getting the best quality service that you solely deserve. Our power washing service consists of Siding, Fences, etc. that we provide in Kennesaw, Acworth, and other regions throughout the Greater Atlanta area.