Concrete and Brick Cleaning in Clarkdale
Two of the most often used building materials are concrete and brick. They are solid, long-lasting, and simple to maintain. They may become polluted and discolored over time. The greatest way to maintain the best appearance of brick and concrete is through routine cleaning. An attractive, well-kept appearance provides a great first impression on visitors or clients.
We, at Spring Clean Power Washing, are well aware of the importance of appearance when it comes to impressing your guests at home or customers in your commercial space. If you are concerned about the appearance or a healthy environment, feel free to call us at 770-670-6067 or contact us for the best Concrete and Brick Cleaning service in Clarkdale.
Our Treatment of the Bricks and Concrete
Concrete, brick, and other surfaces require a cleaning solution that forcefully eradicates stains. To offer you the finest option, our team combines hot water cleaning technology with pressure washing.
The Concrete and Brick Cleaning service provided by Spring Clean Power Washing is developed to remove debris that is unachievable with standard power washing equipment. We use this technology to -
Remove the oil, grease, and other waste left over from leaking vehicles.
Get rid of the rust and battery acid stains.
Wash off any pollutants, including leaves and dirt.
Kill and remove mold, mildew, and more
A Variety of Our Services
In addition to Concrete and Brick Cleaning, we offer a wide range of other services. These include -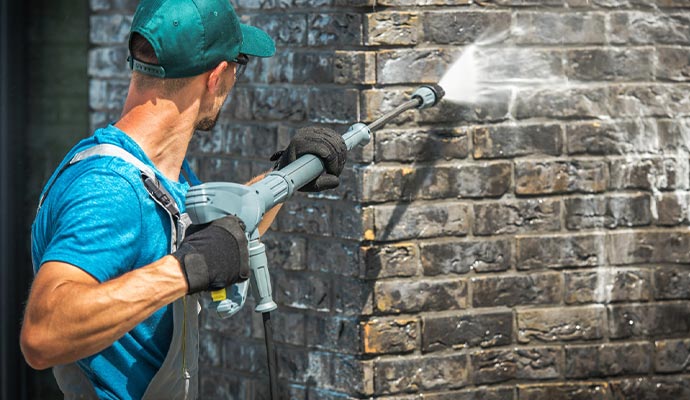 Get the Finest Concrete and Brick Cleaning in Clarkdale, GA
For working on local customer property, we have a great track record. We can manage any kind of cleaning job now that we are large and experienced enough. We use industry-standard equipment and a specially formulated biodegradable cleaning solution during our cleaning projects.
Contact Spring Clean Power Washing if you need Concrete and Brick Cleaning services in Austell. Reach out to us at 770-670-6067 or click here for more information about our services. For power washing services, our customers count on us.