Concrete and Brick Cleaning in Milton, GA
Eventually, dirt and other contaminants will stain a brick or concrete building. These materials are porous and susceptible to growth of unsightly bacteria, fungi, mildew, and mold, which can drastically diminish their visual appeal. Concrete and brick surfaces inside and outside a home in Milton should be power-washed or pressure-washed on a regular basis.
The experts at Spring Clean Power Washing offer environmentally friendly home power cleaning. If you need your home's concrete or brick cleaned, our fully prepared and licensed teams are standing by. For concrete or brick cleaning solutions in Milton, look no further. Call us at 770-670-6067 for the most efficient cleaning service.
Residential Concrete & Brick Cleaning by Spring Clean in Milton, GA
When it comes to concrete and brick cleaning, Milton homeowners can count on Spring Clean Power Washing for superior results. We assist customers with the following:
Enhanced appearance: To improve the overall look and remove built-up filth and grime, we employ high-pressure power cleaning. Your home's curb appeal will be exceptional.
Improve surfaces: We clean brick surfaces and seal them to prevent further deterioration.
Clean you can trust: By using high-pressure water sprays, we remove all traces of dirt, dust, mold, and other allergens for a cleaner, fresher environment.
Routine maintenance: Our expert cleaners can find damaged areas in your concrete or brick and repair them. To avoid severe issues, we'll perform regular maintenance.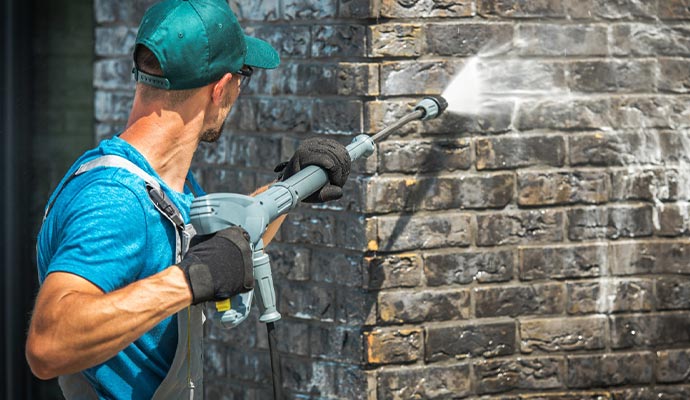 Let Spring Clean Assist With Your Concrete and Brick Cleaning in Milton, GA
Call Spring Clean Power Washing right away at 770-670-6067 if you need concrete or bricks cleaned professionally. We are available for 24/7 emergency response to best serve you in Milton. You can also contact us online for a no-obligation, free estimate, or for more information about our services.