Pool Decks Cleaning Services near Kennesaw, Georgia
When the weather is nice, you may spend a lot of time relaxing in the sun by your pools. However, the surroundings of your pool deck have to be kept looking welcoming and presentable so that you and your loved ones may enjoy the pool to the fullest.
If the pool deck is covered by weeds, stains, and algae, then you and your loved ones might simply avoid the area altogether. At Spring Clean Power Washing, we can help you by thoroughly cleaning your pool decks.
We have a team of trained technicians to provide you with the best pool deck cleaning services and other residential cleaning services throughout Georgia. All of our technicians are licensed and background tested. So you can rely on them for your pool deck cleaning needs. Give us a call at 770-670-6067 to schedule our power washing services.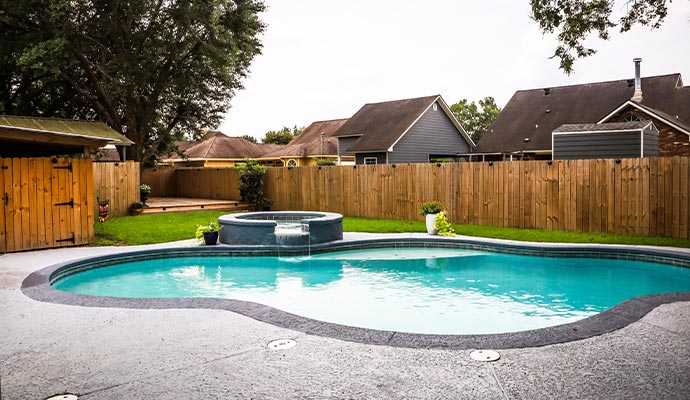 Advantages of Pool Decks Cleaning
Maintaining a clean pool deck is the best and most effective method to ensure that your pool will always look its best. You must first know the advantages before starting the cleaning project. Below are some reasons why you should clean your pool deck, and hopefully, these reasons will give you some excellent insights.
Removes leaves, debris, and dirt, letting your pool deck feel and look clean
Keeps the users of your pool safe from slipping and other accidents
Removes build-up of grime, food spills, and dead bugs
Saves money in the long run
Increases your home's value
Makes the pool more appealing
Removes harmful chemicals around your pool
Cleans and sanitizes the pool area
Offers you and your loved ones better health benefits
What Is Unique about Spring Clean Power Washing?
Spring Clean Power Washing is a licensed and insured company that has been serving the people of Roswell, Sandy Springs, East Cobb, and other places in our service region for many years. We are popular for our environmentally friendly cleaning methods. Besides pool deck cleaning, we also assist our customers with the following:
Call us at 770-670-6067 or click here to get a free estimation today!