Garage Floors Cleaning across Marietta & Atlanta
A concrete and brick garage floor is durable but it also needs special attention to maintain the cleanliness and aesthetics of your garage. Furthermore, after cleaning, you'll have more storage space available in your garage. So, the garage floor requires professional cleaning to keep your garage spotless.
At Spring Clean Power Washing, we are committed and have extensive knowledge to provide you with a clean and unhygienic garage floor. Our fully licensed and insured technicians use state-of-art equipment and goes through an industry-standard process. If you want your money worth it, let us assist you to clean your dirty, and faded garage floor. So, call us today at 770-670-6067 to schedule your appointment if you are a resident across Austell, Canton, Clarkdale, and nearby cities.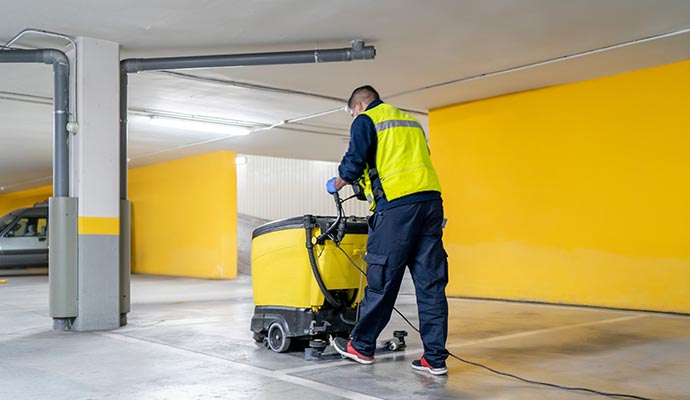 Benefits of Our Garage Floor Cleaning
For a variety of reasons, it may be necessary to clean your garage. It's easy for dust, grime, spider webs, and even mildew and mold to accumulate on them. The health and appearance of your home can both benefit from a spotless garage. Here are a few of the benefits that you will get from our garage floor cleaning services:
The untidy environment is the home of rats, rodents, mice, scorpions, and spiders. After cleaning your garage floor you will be able to reduce pest infestation problems significantly.
Over time, oil stains, dust, and dirt could be embedded in your garage floor. Our expert will wash your garage floor using eco-friendly chemicals to enhance its appearance.
When Spring Clean Power Washing comes to thoroughly clean your garage floor, you won't have to worry as much about trailing dirt, dust, grease, and grime into the house on your shoes.
Rely on Spring Clean Power Washing for The Best Garage Floors Cleaning
Our trained staff can thoroughly clean your garage floors, restoring them to their original condition. The surface will be free of oils, chemicals, and impurities thanks to the use of eco-friendly and controlled cleaning chemicals and pressure washing. Apart from garage floor cleaning, our residential concrete, and brick cleaning services include:
We offer both residential and commercial power washing services throughout Marietta & Atlanta. To get a free estimate, call us today at 770-670-6067 or contact us online.