Tennis Court Cleaning Services in Marietta and Kennesaw
Tennis courts are a coveted amenity for an apartment complex, neighborhood, or country club community. However, it is important to keep a tennis court clean and playable. The best way to ensure that your tennis court looks great is to hire Spring Clean Power Washing to provide tennis court cleaning services for customers in Acworth, Alpharetta, Roswell, and throughout our Atlanta service area. 
Our technicians have the proper experience and training to clean specialty exterior surfaces, including tennis courts. We use a soft washing process to remove built-up dirt and grime without harming the finished surface. When you need our services, click here to make an appointment or give us a call at 770-670-6067 to learn more about our products and services.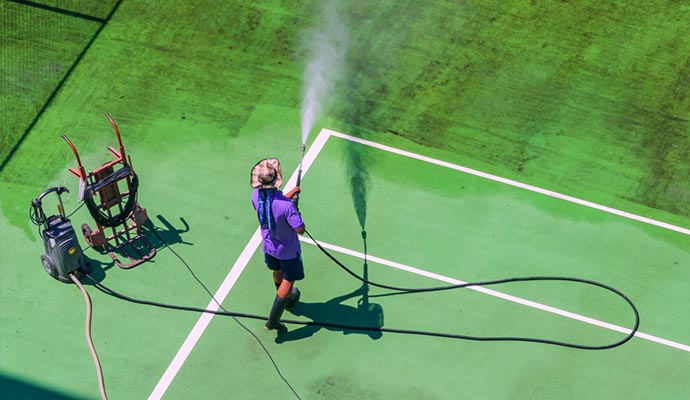 Benefits of Regular Tennis Court Cleaning by Spring Clean
For safety: A clean tennis court is free of dirt, debris, and rubbish that could cause slip-and-fall hazards or accidents, making it a much safer playing area.
For clear surroundings: A clean tennis court offers a more engaging area for players and is also more attractive.
For the owner: Periodically maintaining your court will help to avoid issues in the long run. A well-maintained tennis court will increase the value of your leisure facility.
Trust Us for Your Tennis Court Cleaning in Kennesaw & Marietta, GA
For quality tennis court cleaning, call Spring Clean Power Washing. Whether you need a quick or detailed cleaning, you can count on our commercial washing experts to provide the results you want at a customer-friendly price. We also provide restaurant cleaning services for our customers throughout the Greater Atlanta area. To learn more about our products and services, call us at 770-670-6067 or click here to schedule your no-risk quote today.