Concrete Patio Cleaning Service in Marietta & Kennesaw, GA
Many people are primarily drawn to the concrete patio because of its versatility, offering unparalleled durability and design flexibility. A cleaned concrete patio enhances the look of a home. But because of the porous surface, concrete, and brick are susceptible to contamination from grime, mold, mildew, and other stains that reduce aesthetic appeal.
The concrete patio needs to be cleaned in a timely manner. If you need to clean and you are looking for professional service, then you are in the right place. Spring Clean Power Washing provides the most professional concrete patio cleaning service with power washing in Marietta, Kennesaw, Alpharetta, Atlanta, and cities across our Metro Atlanta service region. Reach us by dialing 770-670-6067.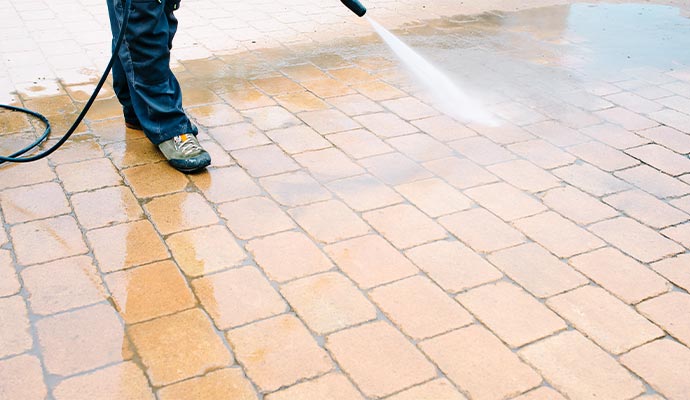 Why Need Professionals for Concrete Patio Cleaning?
Professionals at Spring Clean use advanced equipment and unique methods for cleaning your concrete patio thoroughly. While cleaning we mainly focus on_
Complete cleaning: We use power washing to remove all build-up dirt, grime, mold, and stains completely and give an aesthetic outlook to it.
Safe and sound environment: Our power washing will ensure a safe and sound environment. By removing all dirt and odors, we make your place healthier.
Proper maintenance: We'll identify all spots and damaged area and restore it appropriately. Our maintenance service will make your concrete patio last longer.
Choose Spring Clean Power Washing for Concrete Patio Cleaning Service
If you decide to clean your concrete patio by yourself, you may find it difficult to clean it properly. But you need not worry about it. Professionals at Spring Clean Power Washing can help you out with power washing services. We also provide building cleaning, commercial power cleaning, roof cleaning, window washing, etc.
You can contact us anytime as we are available 24/7 to serve you. To know more and to fix a schedule, call us at 770-670-6067 or contact us online.