Patio Cleaning in Kennesaw, GA
A well-kept patio is comparable to having a living room outside, and it should be cleaned and maintained accordingly. You want to feel as comfortable on your patio as you do inside your home, whether you're having a dinner party, a cookout, or just relaxing with a good book, but there are a lot of elements to contend with when you're outside.
Keeping your patio clean is not easy to do since there are types of algae, mildew, and mold that are constantly trying to make a home in your patio and furniture. The best way to get rid of them is to trust a professional like Spring Clean Power Washing for patio cleaning. Our service is reliable and effective. So if you are living in Kennesaw, Johns Creek, and other cities around the Greater Atlanta area and want the best Patio Cleaning service contact us today at 770-670-6067.
Why Trust A Professional for Patio Cleaning?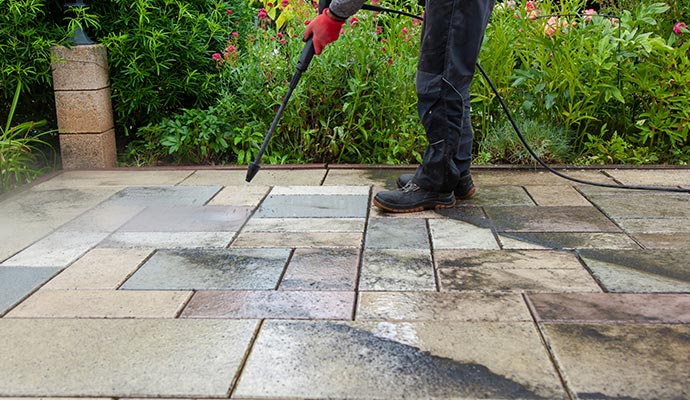 When you are getting a professional patio cleaning service you will get the following benefits-
Life Duration Increases: We are certain that you want your patio to have as long a life as it possibly can. When dirt, dust, and other things are allowed to accumulate on the surface of your patio, it may cause the material to degrade, which in turn shortens the patio's lifetime. Regular cleaning to remove filth, dirt, oil, and other contaminants from your patio is one of the ways you can extend its lifetime and make it seem new for longer. The cost of letting a professional patio cleaning service like Spring Clean Power Washing is money well spent if you want your patio to continue looking nice & new.
Save Money: Every patio will eventually deteriorate and get ruined over time. As a result of this, power cleaning your patio with high-pressure water may help ensure that it remains in the greatest condition possible and prevents you from having to spend money on repairs or replacements. Repairing damage to a patio is an expensive endeavor, one that is far more expensive than the expense of doing periodic power washing. Through consistent cleaning of the patio, your commercial enterprise may save money over the long term.
Rely on Our Superior Patio Cleaning Services in Kennesaw, GA
At Spring Clean Power Washing, we aim to provide the best power washing service which is environmentally friendly. We provide our power washing services such as Fences, and Siding in Roswell, Alpharetta, and other regions within the Greater Atlanta area. So to avail of our services and learn more about our products, contact us online or give us a call at 770-670-6067.