Power Wash And Soft Wash in Roswell
If you want to remove soil, dirt, germs, and bacteria properly, then you need a professional power washing service from a well-reputed company. Professionals know where stubborn dirt might accumulate and need extra attention, which we non-specialists might miss. However, for some parts of the house, power washing can do more harm than good such as siding or the house's exterior. In such places, a soft wash is preferable as a soft wash can adequately remove all the dirt and mold problems without causing any harm. But yes, for decks and fences, power washing is more appropriate.
Spring Clean Power Washing experts know exactly how to handle power and a soft wash of your house. So if you are a Roswell resident, Leave all your worries to us and let us operate the job efficiently and within your budget. Contact us online or call us at 770-670-6067 for more information!
Why Power Washing by Professionals is Important?
Our houses suffer from UV rays and other dangerous impurities including dust, grime, algae, mold, and insects all the time. A buildup of siding embedded stains in driveways, and black streaks on the roof are all consequences of this phenomenon. The good news is that you can take steps to prevent this from happening to your home. Regular, consistent power washing by experts is beneficial to any property since they have the ability and understanding to do such tasks. In reality, the advantages go well beyond what is immediately apparent. Some of the most significant advantages of having your house power washed by experts are as follows:
Prevent further damage
Increasing the Look and Feel of Your Home
Save both time and money
Save both time and money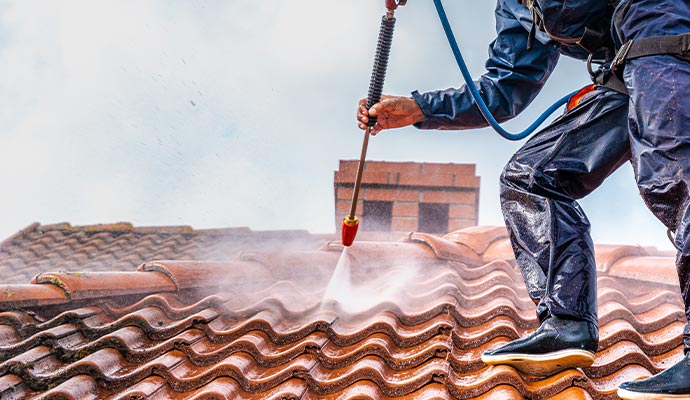 Services by Spring Clean Power Washing in Roswell
At Spring Clean, we spare no effort in pursuing complete and total customer satisfaction for our Roswell clients. We always make it a point to do our best. Following are a few services we offer our Kennesaw customers:
Contact us online or call us at 770-670-6067 to book all our services!
Customer Reviews from Roswell
Jeffrey W. from Roswell, GA
Sep 11th, 2017
Super! Doug did a terrific job. Very thorough and thoughtful. Everything looks so much better. He has equipment that seems to reach everywhere. He uses the proper cleaning bleach and pressure in a 2 step process.
DESCRIPTION OF WORK
Pressure wash / clean both wood and cement decks
CATEGORY Pressure Washing
Completed Jobs from Roswell