Gutter Cleaning Just Got Easier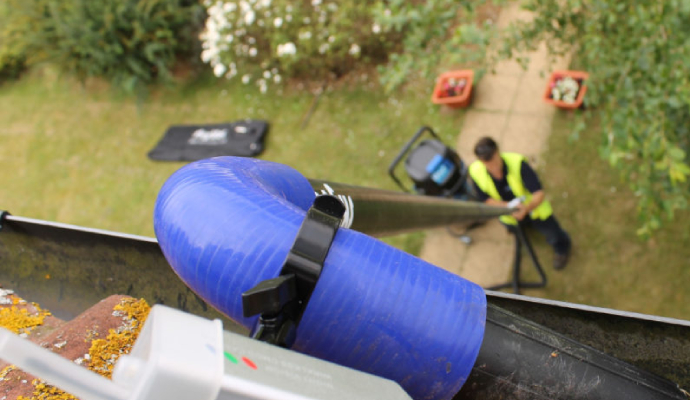 "Forget The Ladders, Call Spring Clean Power Washing Instead!"
That's exactly what Mr. Jones said to his neighbor when he saw him trying desperately to hold onto his ladder with one hand and clean the gutter with his other.
And with each scoop of debris Mr. Jones' neighbor took out of the gutter it caused the ladder to wobble. Now if you've ever watched someone on a ladder wobble enough times you know eventually the foresable is going to happen. They're going to fall. And get hurt. Hey, I get it. It's on the honey-do list so you've kind of got to do it, right?
Well, yes and no. Yes, you have to clean the gutters. No, it doesn't technically have to be you. And, really why "risk it"? Why not just pick up the phone and call us.
Hey that's exactly what Mr Jones' neighbor eventually did. The fear of falling, the fear of busting bones and being out of work are powerful motivators. That's why we use cameras! Cameras mounted on long vacuum hoses that we can control from the ground. So no ladders to fall off of.
And the leaves, dirt, twigs, dead bugs, that have been clogging the clutters are wicked away through the vacuum hoses to a holding tank on the ground. So why risk falling? Why waste your precious weekend hours cleaning up clogged filled gutters?
Call Spring Clean Power Washing at 770-670-6067